Here's your outline to get started with LMS.
Key facts about your LMS (Learning Management System)
As an employer, hiring new staff is an exciting, yet unpredictable moment for your business. Sure the person has done well at the interview but what are they going to really be like when they walk through the company doors? Will they deliver on all their promise from the interview? Will they fit in well with others and suit your culture? You can never control how new staff are going to work out within your organization but one thing you can do is give them the best possible start by creating a great induction course required for starting their job.
Dipsons readily assist our clients in setting up online induction training for new staff and we have complied a list of some of the main benefits of online induction training that you may find beneficial for your company in this encouraging time of economic recovery.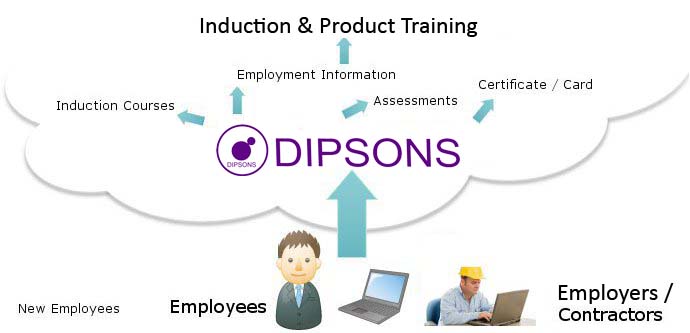 PROCESS OVERVIEW
It's 4th Generation....
Gone are the days of balck board & Choak, now its Cloud, Tabs, Laptops & even Mobiles.
Delivering consistent online induction training to all employees in all regions

Online Traning Makes Learning Optimised.
Created Once & learning Unlimited.
Once you establish and create a great induction course, it is often best to roll it out across all the new employees joining. This creates a consistency to your training. In order for training to become effective, it needs to be consistent and online induction courses provide this consistency as all employees go through the same content and learn the same material. This creates an unambiguous work environment in which all employees understand the messages and the policies you need them to know.
How it Works?
Candidates will be sourced by us or by you for induction training. Serious candidates who want to join your company will pay & learn.
Companies will fix a date for the OJT every month the candidates can join post completion of the course.
Train them on your confidential process and do a performance test in OJT.
You can also put them on staffing on our roles in case you need a bit long testing period.
Why you must choose Dipsons LMS?
| Company Benefits | Candidate Benefits |
| --- | --- |
| Save 100% on training cost. | Learn from anywhere anytime (24X7X365) |
| Save 75% time on running training sessions & logistics cost. | No fear of missing classes or revise contents as many time till you understand. |
| Start getting the business from your employees from day one of their joining. | Get direct entry into the company for the OJT. |
| Engaging employees before recruiting reduces attrition. | Decide your dream company & prepare yourself as per the company requirements. |
| Classroom training may lead to personal relationship, networking or discussing more into trainers experience & social causes. | 100% free from classroom politics & trainers targets. |
| Create Course once & train as many candidates from any locations. | Earn an experience letter even if you couldn't clear in OJT |
| Cut costs 100% on course materials, external trainers, etc. | Obtain a certificate on course completion. |
| You can control your course content i.e. add or modify any content easily, any new changes are also intimated to the old learners to upgrade themselves at zero cost. | Each course will have the forum to solve the queries by discussions among the students, company employees or resource people. |
Add DIPSONS as your TRANING PARTNER today
Our most popular job categories
From hire-train-deploy model to train-hire-deploy model.